Welcome
Nutrition Department
The Nutrition Department offers complementary and program-related nutrition courses.
Members of the Department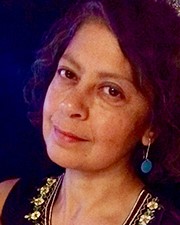 Manijeh Ali
514-457-6610 ext. 5328
HS-310
manijeh.ali@johnabbott.qc.ca
Manijeh Ali has been teaching nutrition at John Abbott College since 1993. Manijeh has a BSc. in Dietetics and Human Nutrition from McGill University, a MSc. in International Nutrition from Université de Montréal, and a graduate diploma in Education from the University of Sherbrook. Her Master's degree focused on participatory research in the area of food security in Malawi, Central Africa. Doing post-graduate work at McGill, she continued her research work in Ghana, West Africa in the area of Health Assessment and Education. From 1993 to 2003, she worked with many organizations in West African countries particularly in Ghana and with the F.A.O of United Nations in Afghanistan. Manijeh is also a performing artist (dancer) and the artistic director of the QuebeAsia Dance Performance Series (www.quebeasia.org)
Magda Fahmy
514-457-6610 ext. 5494
HS-310
magda.fahmy@johnabbott.qc.ca
Magda Fahmy graduated from Concordia University in 2001 with a Bachelor of Science in Exercise Science and continued her studies at McGill University where she completed her credentialing to become a dietitian in 2005. She also completed a Masters of Science in Dietetics and Human Nutrition at McGill University in 2011 with a project focused on developing nutrition and physical activity recommendations to prevent gestational diabetes in subsequent pregnancies. As a member of L'Ordre Professionnel des Diététistes du Québec (OPDQ), Magda has worked in many areas of nutrition. Before working at John Abbott College, Magda taught Continuing Education for the University of Guelph and worked as a dietitian in Community Health Centres, long-term care, non-profit organizations, and private clinics promoting health and providing nutrition consultations to clients since 2006. Magda joined John Abbott College as a nutrition teacher in 2011.
Courses
Courses
Diet, Weight and Diseases
Nutrition Today
Nutrition and Oral Health (Dental Hygiene Program)
Sports Nutrition
For a list of courses offered by the Nutrition department, please visit the General Education (Complementary courses) section of the Course Calendar.
Supplemental Information