MS Office Teams online training
Frequently Asked Questions
Contents
Teams: creation and names.
Setup your meetings in Teams.
Upload files for your students.
Share your presentation with your students.
If you are a presenter:
Record your classes.
Create channels.
Other Teams features.
IT support available.
Miscellaneous.
A.   Teams: creation and names
Why were the course Teams set up as Professional Learning Community (business teams) rather than as Class teams?  Is there an advantage to having it as PLC?
The ITS department at JAC created the teams following the PLC type as it was the best approach in order to organize and manage the entire college. Teams could be created and automatically populated with the correct students in PLCs – this cannot be done in Classrooms.
Can I change to the "classroom" type of team?
Since the classes were set up by ITS, you are not able to change the original teams from the Business to Classroom type. If you feel comfortable, you can create your own new classroom teams and add your students into it. See instructions below to add students. Once your classroom teams are set up, you can delete the original PLC teams.
Can I delete my original teams once I have renamed/reorganized them?
Yes.
Can I change the name of my team?
Yes, you can change the name of a team and your students will be able to see the new name. You can also select an image to represent your team – this might help visually identify your team for your students.
Why is there a student missing from my class and how can I fix this.
If you are missing a student from your class(es), you can:
Contact the ITS support number: x3333 (leave a message)
Send an Octopus request, or
Add your student manually, using the following method:
Go to your class and click on the three dots next to the class name
Type the student ID number and click on Or just type the students name. NB: no need to add the @.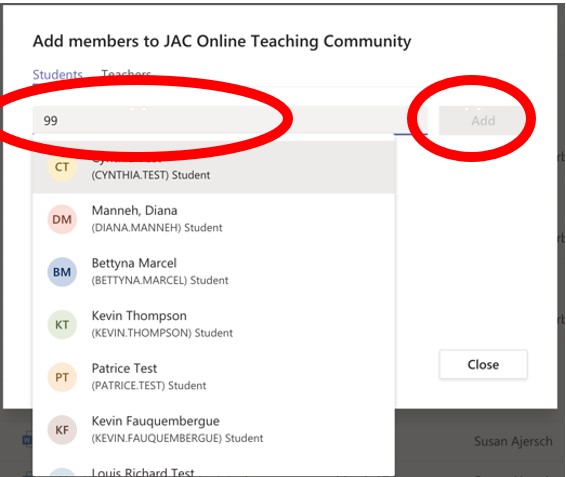 B.   Setup your meetings in Teams
What is the easiest way to create Teams meeting?
To start a meeting:
Select  in a new conversation.
In your video preview, enter a name for the meeting, and select Meet now.
Do I have to schedule the meetings in my Outlook?
This is not essential; in fact, it is not the easiest method. We recommend that you start your class/lecture by clicking on the camera at the bottom of your class/team post area at the time your class is scheduled.
If you decide to schedule your meetings using the Outlook Calendar, we strongly suggest you confirm with your students if they are checking their John Abbott email (studentname@johnabbottcollege.net). Students will get all the meeting notifications on this email. If they do not check this email, they will not attend your class. It is quite likely that they will not check this email regularly.
Students' JAC email should be: Student ID followed by @johnabbottcollege.net
Example: 9876541@johnabbottcollege.net
How do I schedule my meetings on Calendar? (note cautions in #2 above)
Please refer to this video:  https://www.youtube.com/watch?v=63cMG0fBRLM
Can you invite students from several different classes to the same meeting?
Yes, if you schedule your meeting from your Outlook Calendar, yes you can. You can invite different teams or channels.
How long does the chat remain visible after the meeting is over?
Once the meeting is over, the chat window will close. However, when the meeting is over you will be able to see all the chat conversations in the post area (canvas), in the main page of your team or channel so you will able to scroll back through and see your students' questions or comments.
When I lose the meeting window, how do I get it back? How do I know which meeting to join? Is there an "active meeting" indicator?
To join or rejoin the meeting, go back to the conversation page, you will see an invitation to join, relevant content, and who is in the meeting right in the channel. Just select Join.  You may have to scroll up or down to see the Join prompt.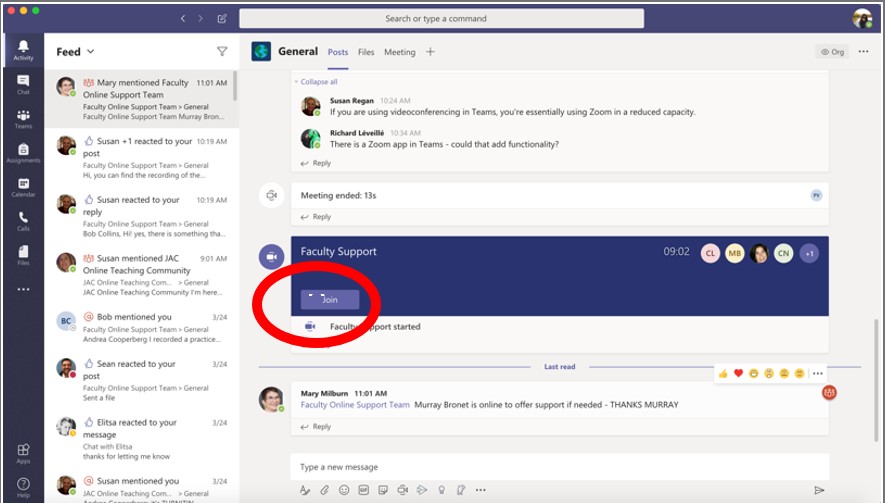 Why can't I shut down a meeting?
The meeting keeps running until all participants have left the meeting. We have had the experience of a student starting the meeting and the teacher being unable to end the meeting. Try to be the one to start the meeting by arriving in the Team earlier than your students 😊 Alternatively, you can let the meeting keep on running even after you leave, as students are craving connection at this point.
If there is a student(s) still in the meeting and you want to "kick them out" so you can end the meeting, you can click on the Participants icon and right-click on the remaining participant(s) to Remove Participant.
Can I prevent a student from initiating our class meetings?
As mentioned in the previous question, try to be the one to start the meeting by arriving in the Team earlier than your students.
How can I make my students into attendees? Can I do this for all the students at the same time?
If you start the meeting from the menu area by clicking on the video camera icon, within the meeting you will have to change your students from "participants" to "attendees" one by one and repeat this for every meeting.
Tip: Ask your students to join the class a couple of minutes before your class is scheduled to begin so you can perform this task. This is a good way to make sure all your students are in class (I.e., take attendance) and check if someone might have a problem.
If you are using Outlook to schedule your class, you can make all your students attendees (see cautions above in answer #2)
If you have a Class team (not a PLC team), your students will have fewer permissions than you (the teacher) will have and are essentially attendees from the first.
What is the significance of the attendee's status?
In PLC TEAMS, by default, the students are full participants. It is only when they are attendees that they are not able to share their screen, their presentation or the whiteboard. That is why we recommend that the teacher go in and one by one on each student in the participants list, and change them from participant to attendee.
If you are using the TEAMS Class (not PLC), your students' status is automatically that of an attendee.
Why can I only see one person in my meeting window, instead of the usual four people?
You may have clicked inadvertently on "Full Screen" in the … (3 dots) on your floating menu.
C.   Upload files for your students
How can I upload a PowerPoint or any other documents?
Please refer to this video: https://support.office.com/en-us/article/upload-and-share-files-57b669db-678e-424e-b0a0-15d19215cb12?wt.mc_id=otc_microsoft_teams
Why do we have to upload all our docs for students onto LEA if we are using Teams?
As per clear instructions from the Deans, Faculty members are requested to upload all of their documents in LEA and make them available for students because we know that all the students have access to LEA and know how to use it. As we are using Teams as a new platform, it is very important to have a "Plan B" in case Teams does not work properly or in case not all your students have access to Teams, especially the first weeks.
D.   Share your presentation with your students
How can I show my PowerPoint to students?
Please refer to this video:
https://www.microsoft.com/en-us/videoplayer/embed/RE2NaoC?pid=ocpVideo0-innerdiv-oneplayer&postJsllMsg=true&maskLevel=20&market=en-us
If you are a presenter:
Select Share 

Choose a presentation under the PowerPoint category on your lower screen.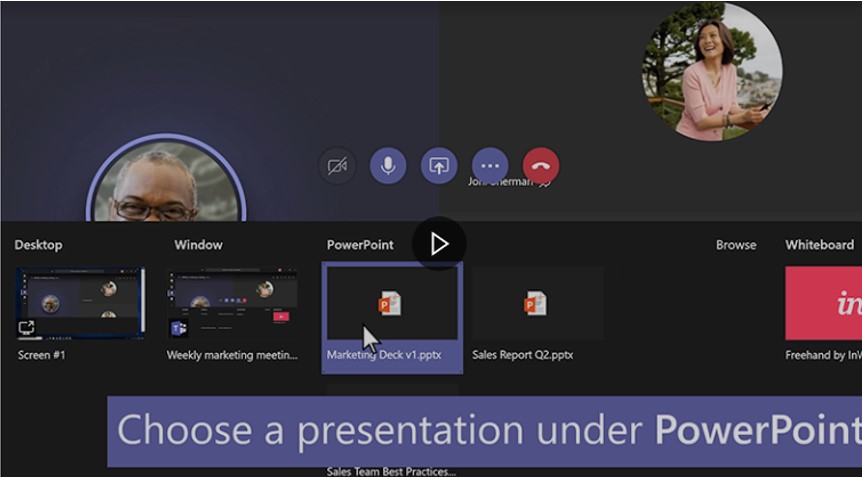 How can I prevent the students from moving ahead in the PowerPoint?
In order to prevent your students from controlling your presentation:
Share your presentation with your students
Click on the "eye" icon

B. Sharing your Screen: How can I show my PDFs, Word docs, Excel spreadsheets, etc. to my students?
The best way to show your PDFs, Word docs, Excel spreadsheets to your students during your videoconference is to share your screen with them. Select the share screen icon to show your screen to the other people in the meeting.  If you click on SHARE in a videoconference, you can only share a PowerPoint slide show — not a Word document. You are prompted that TEAMS only supports PowerPoints for sharing.
Select Share 

.
Select what you want to share:
Desktop lets you show everything on your screen.
Window lets you show a specific app.
PowerPoint lets you show a presentation.
Browse lets you find the file you want to show.
After you select what you want to show, a red border surrounds what you are sharing.
Select Stop sharing to stop showing your screen.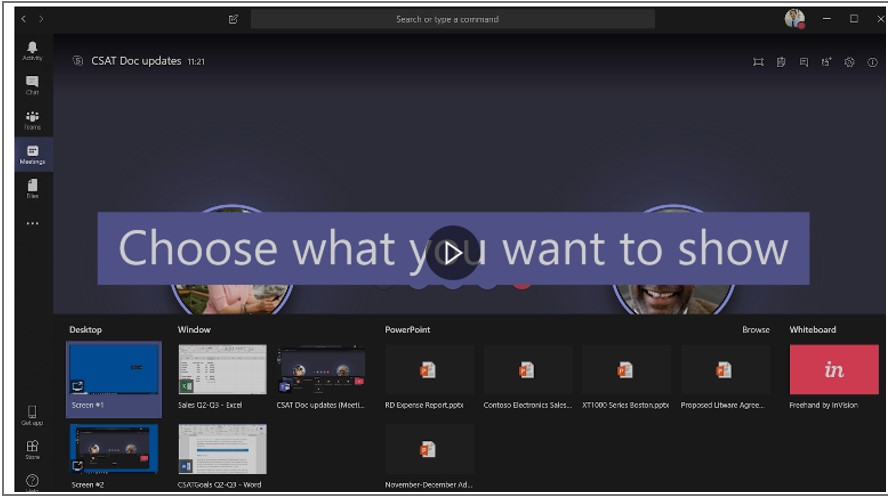 C. Can I show a PowerPoint and lecture at the same time?
Yes, you can share your PowerPoint Presentation and talk at the same time.
Tip:
Roger Maclean notes, "I have been working on PowerPoint to enhance my slides. It is new to me, with OFFICE 365 you can record your video with voice or without image and write on the slide. It works well as an alternative for those who will have difficulty with accessing the students with TEAMS. I plan to upload the modified PPT on LEA next week. I think it makes it easier with 2 sections of the same course. Then if there are common issues, just create a new PPT and send it to the 80 students…"
D. How can I play a video on TEAMS?
If you wish to share a Video, you must do it by sharing your screen (sharing your desktop or sharing a window, explained above). Make sure you also click on "Include system audio".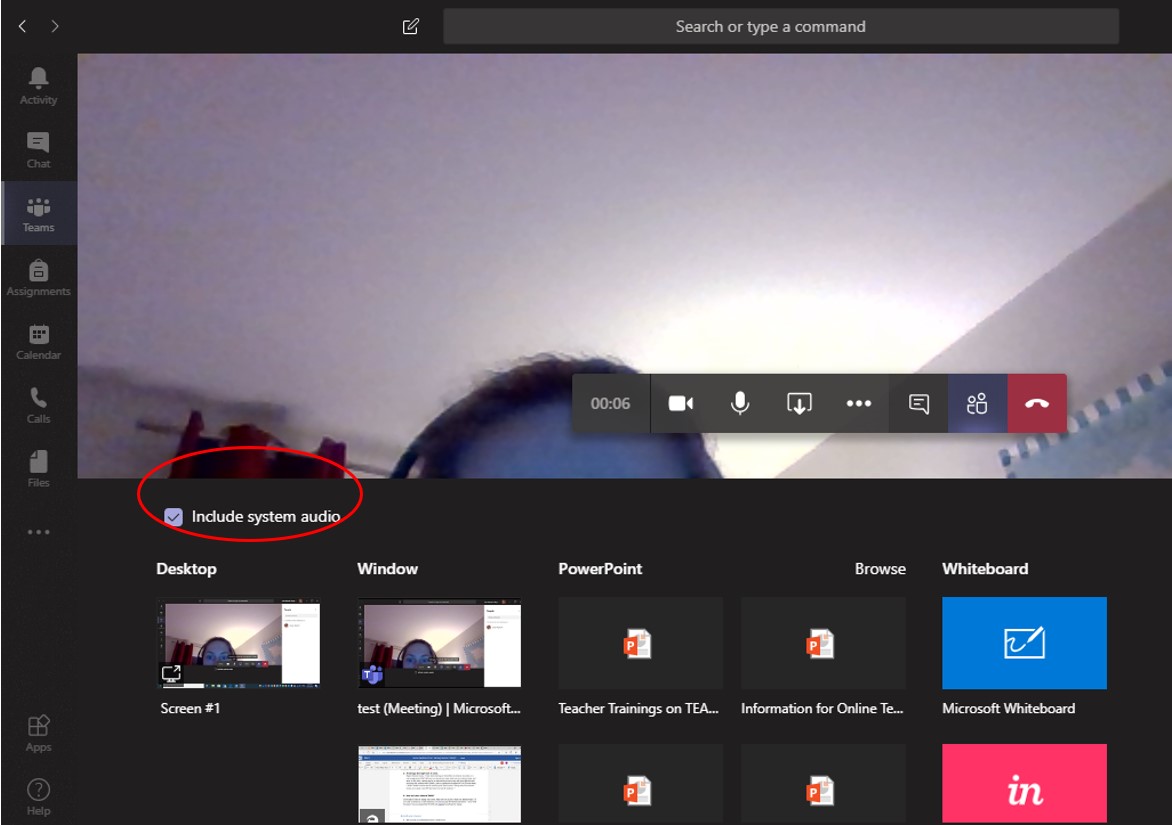 UPDATE: You can also put a link to your video within a PowerPoint slide. When you display the PowerPoint slide containing the link, direct your students to click on that link. They will be taken to YouTube (or where ever your video is stored) and the video will play for each one of them. As a teacher, you do not have to click on the link (if you do, your audio and visuals will overlap on the audio of the students – very confusing, loud, and not recommended). Instruct your students that, after the video has played, to return to the Teams window.
E. Where can I upload Videos I have created on TEAMS?
In your Team, in the conversation bar click Stream 

 . Add your link from your Stream.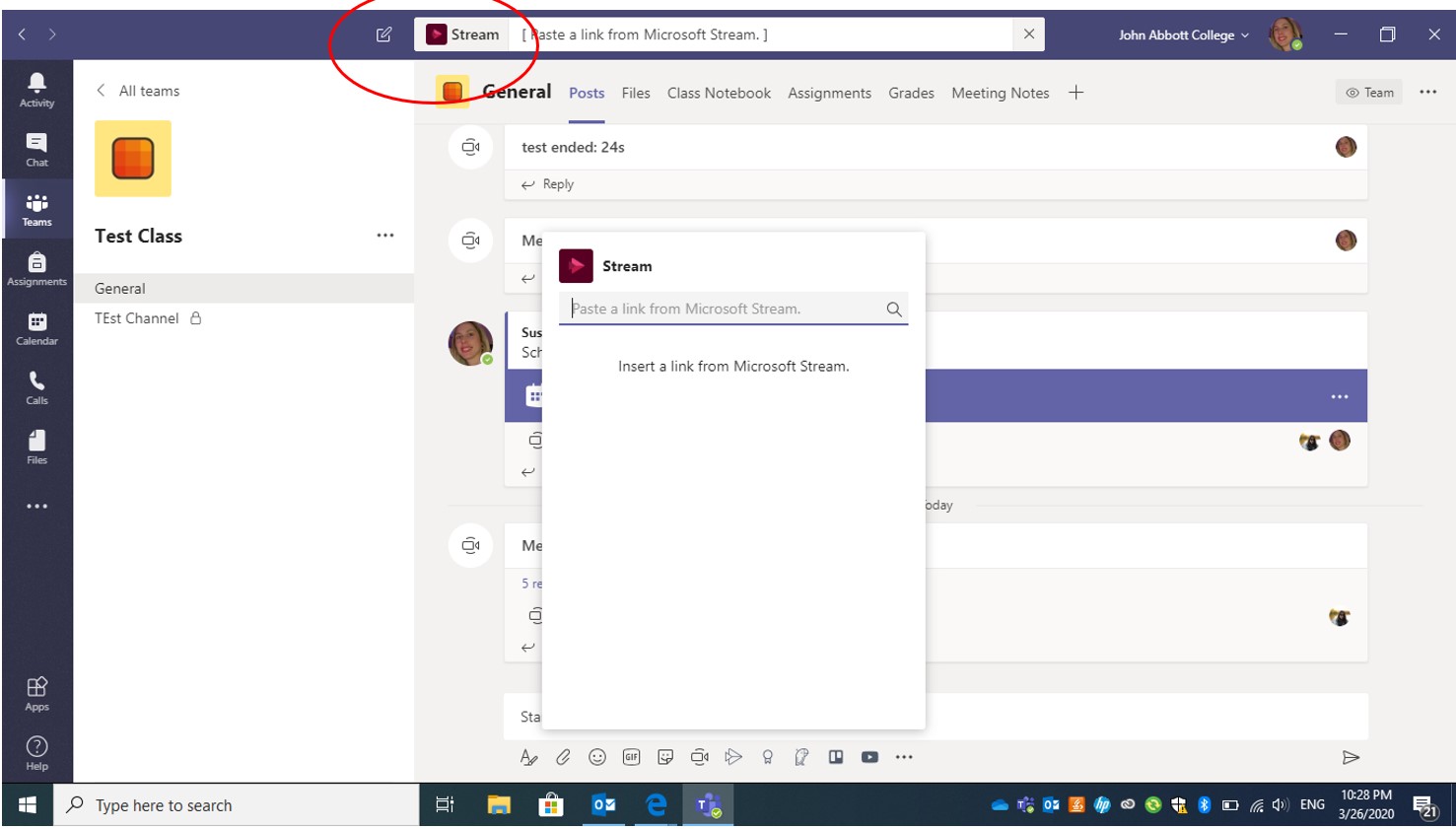 Or add Stream 

as a tab (+). Add your link from your Stream.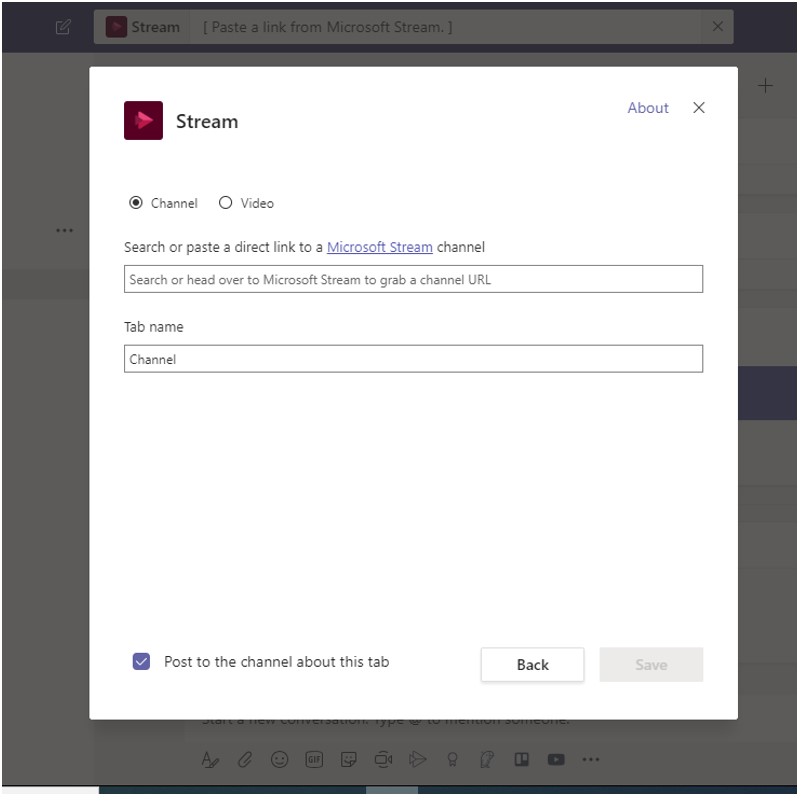 How do I upload a video to Stream?
In the Microsoft Stream portal, select Create > Upload a video or the upload icon from the top navigation bar.    Drag and drop or select files from your computer or device.
You can upload multiple videos at the same time and even browse Microsoft Stream while your videos are uploading in the background. There are several options for uploading videos. Depending on where you start your uploads from.
https://docs.microsoft.com/en-us/stream/portal-upload-video
F. How can I share the Videos I have created?
https://docs.microsoft.com/en-us/stream/embed-video-microsoft-teams
https://docs.microsoft.com/en-us/stream/portal-share-video
G. How can I delete my recording?
Recording owners (either the person who started the recording, or any additional owners named by that person) are the only people who can delete recordings.
In Teams, go to the recording in the chat history and click More options  Open in Microsoft Stream
On the Microsoft Stream portal, click > Delete
E.    Record your classes
Who can make a recording? (just teacher or students too)
Currently, only Faculty can record in Teams.
Who can see the recordings?
Currently, videos are available for our College members only (they are not public outside the College).
How do I delete a recording?
Delete a meeting recording in Teams. Recording owners (either the person who started the recording, or any additional owners named by that person) are the only people who can delete recordings. > Open in Microsoft Stream. > Delete
Why can't I see the recordings?
Once you stop recording, it will take time for the video to be uploaded. Several minutes to several hours depending on the length of the recording. The video recording will be posted in the conversation area (canvas).
What are you able to record (your screen? Or just the videoconference?)
The person who clicks on the recording feature can record his screen, presentation, etc. So, if you want your screen to be recorded, you are the one who needs to follow the steps in order to record the session. (More testing needs to be done on this feature).
How you make your recording available for students who don't have access to Teams?
Once you have ended the recording of your lecture/class, a notification appears on the "Posts" area for your team. There are … (3 little dots) at the top right of this recording notification. Click on the  …   and select "get link". This will bring you the URL for external (non Teams) users to access the recording. Copy the URL and send it to your student in an MIO. Note: More testing on this feature is needed to check if the student will be able to open a video from their MIO.
F.    Create channels
What are channels for?
Every Team can be personalized and customized, and that all begins by creating channels within a Team. Channels are a way to subdivide a team into different modules, ideas, topics, dates, or categories.
How does a channel differ from a team?
If you are creating a Team for a class that you teach, you might create channels that are named after units or themes that you teach within that subject.
You can create unlimited Team channels to help you structure your content in ways that make sense for your team.
How do I create a channel?
Click the ellipses (…) next to the team name, then select "add Channel".  Enter the Channel name and add details, then select add.  Your new channel appears immediately in the list. You can begin populating it with files, apps, notes… etc.
What can my students do in a channel?
Your students can use a channel to do a "break-out room".  You can also separate your channels by Week, Unit, Theme …etc. Talk with other teachers to share their ideas for using channels effectively.
Can I see what my students are doing in a channel?
If you make yourself the "manager" of the channel, you can view what your students are doing.
Can channels be recorded?
The recording feature is only available in the General channel of your team, so far when you start a meeting into a breakdown group (or private channel) you can't record a session.
Do I have to add students to the channels individually?
If you want to add the entire class to a channel, just type the name of the class (the team name) and all of the students will be added.
How do I get students to come back into the main group from their channels?
Create an Announcement in the Posts, asking the students to reconvene in 5 minutes (for example). Then start a new meeting for them to join, in the main team.
Can students enter their channel to work outside class time?
Yes.
G.   Other Teams features
Is there a "raise hands" button?
At this moment, this feature is not available. Microsoft will introduce a "raise hand" feature later this year. You will also be able to simply click a button to ask a question in particularly busy or large meetings.
Tip: You can tell your students to type their names on the chat area when they want to ask a question.
How can I blur my background?
In order to blur your background. Once you have started your class with your students:
Roll your mouse until you see the following floating bar. Click on the three dots (More actions)

Select on Blur my background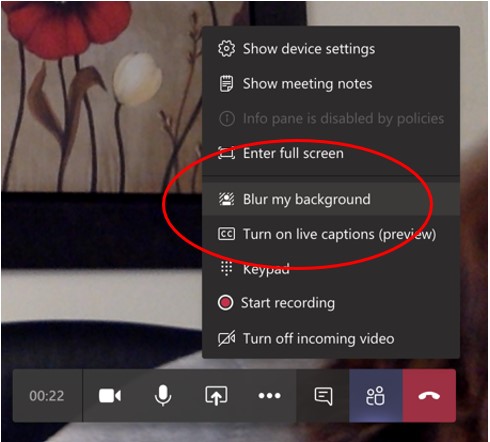 Note: Some computers (especially older ones) may not have a camera that can select your face and consequently cannot blur your background. In this case, you may not see the "Blur my background" menu item, or it may be greyed out.
H.   IT support available
Phone: 514-457-6610 ext. 3333
When you call please leave a message as the ITS retrieves the messages every five minutes.
OR
Octopus: using the new category of "An Online Course Question or Problem – COVID-19 shutdown"
OR
Online at Microsoft Teams: search for "ITS-Support" Team
I.      Miscellaneous
I cannot hear one of my students – getting a lot of feedback! How can I trouble-shoot this problem?
In order to solve this problem:
Make sure all your students turned off their microphones while you are presenting, or you can mute ALL students at the same time at the beginning of the class
Close any applications that you are not using on your device
Check your own settings to make sure that you are using the right devices
If Teams is open on two devices at the same time, make sure the devices are not positioned close to each other.
You will hear an echo and/or static if you are on the same Team twice (I.e., on the web app AND on the desktop app; on your iPhone and on your desktop app; etc.).
Where can I see/share the instructions for students?
A students' guide was sent to both Faculty and students by MIO. It is also posted on the Files section on FOST.
Tip: Review some of the main topics mentioned in the student' guide during the first couple of online classes to make sure students feel comfortable with Teams, LEA and anything related to the online classes procedures (example: etiquette, how to ask a question, etc.).
Can students borrow a College laptop?
Yes, a survey was sent out for students and the College gathered the information in order to provide students with equipment. They will be contacted. Students can be directed to ITS helpline.
What about those students who seem to have "vanished" – can't contact them?
The PDO Office is contacting students to make sure most of their requirements are met.
Please try to get in touch with them by MIO or any other method at your disposal. You may want to bring the names of the "missing" to the attention of your department chairperson.
How do I add all students to a new "Classroom" team?
You can add students using the team name of the existing "Business" team (class), but you must use the full team name, and DO NOT use the @ symbol.
How do I host office hours that are open to all of my students (from different classes)?
You can create another Team with all your students and start a meeting there, if that is how you would like to conduct your office hours.
Does Teams work outside of JAC? e.g. sending invite to a non JAC email?
Yes it does.
Open, Manage Team, Add a member, and then type in their email address.
Otherwise, you can send it an in invite through Outlook in the Calendar section in TEAMS.
How to work collaboratively on a file?
Please refer to this video:https://support.office.com/en-us/article/work-on-a-file-together-058173f5-031b-4f37-8724-ce2a50aa1d1d
How to minimize unwanted student disruptions in class?
– Make your students "attendees" (see above)
– Open another channel called "Social Chat" or something like that so that students have a place for their silly comments, GIFs, jokes, and social chit-chat. Students are isolated, missing their friends, stuck inside the house – it's good to give them a social outlet.
– If someone gets super obnoxious, you can contact IT-support Team and see if you can escalate it. Googling Zoom Bombing will quickly demonstrate that things could get much worse!
– Spend some time going over basic etiquette with your students. They are not always aware of what we expect. For example, some attend class while they are in bed (their image might be sideways) and some may not worry about appropriate dress.

This document is collaborative in nature and a work in progress.
Please test all suggestions.
Any additions, suggestions, or corrections should be sent to FOST@johnabbott.qc.ca