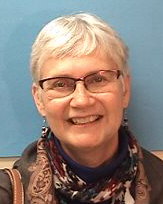 Jacobs, Christine
Christine Jacobs is the current chair of ILT, ably assisted by Cristina Segura and Melissa Maude.
With an undergraduate degree in Anthropology (Carleton 1973) and a Masters in Library and Information Studies (McGill 1983), Christine worked in a variety of settings before joining the ILT program as a full-time teacher in 1996. Her past experience includes bookstore management; reference, programming and cataloguing at the (then) Côte-St-Luc Public Library; a/v librarian working on indexing, cataloguing and special projects for the database division of the National Film Board of Canada; and managing her own company providing indexing and editing services.
Her professional specialization is subject access to information and she usually teaches in the areas of classification, cataloguing and indexing, as well as communication and teamwork.  However, she enjoys all kinds of information management tasks and has taught a variety of other courses within the program. She has also taught indexing at Concordia and McGill, as well as in various workshops through the Indexing Society of Canada.
Among the articles she has published are: "Liberal arts and LIS paraprofessional education in the knowledge context: the cases of South Africa and Québec, Canada"  (with Jaya Raju) (http://www.ajol.info/index.php/innovation/article/view/46972), and "Ethical Places, Ethical Spaces" (http://www.ingentaconnect.com/content/index/tiji/2007/00000025/00000003/art00003) concerning ethical considerations in indexing. Christine spent her last 6-month sabbatical in Ghana, working first in a College library and then in a children's library.
Christine is active within a number of professional associations and in 2012 the Quebec Library Association (ABQLA) awarded her the 2012 Anne Galler Award for Outstanding Library Service in recognition of the longstanding and broad scope of her contributions to the field. Among other activities she is an external review panelist for the American Library Association Committee on Accreditation.  She was also nominated by the College for the Association of Canadian Colleges Teaching Excellence Award in 2007.