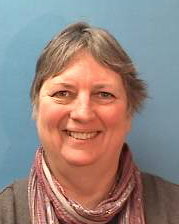 Donaldson, Janet
Janet Donaldson graduated from JAC's ILT program in 2005. An enthusiastic supporter of libraries, she returned to school to study in the ILT program after volunteering at an elementary school library for many years. Before returning to school Janet worked for ten years, variously as a doula, an aide natale at the newly opened Cote des Neiges Maison de Naissance and as chair of the breast feeding support group Nourri-Source in NDG.
In 2006 she began her career at John Abbott College where she has worked in several positions including at the circulation and reference desks in the library. In 2008 Janet began working in the University & Career Information Centre, (UCIC) and in 2013 she joined the ILT department as their lab technician. Today she divides her work between the two positions.
Janet has served on several John Abbott Committees, including the Harassment Awareness Committee, the Library Media Services Committee, and the Complementary Committee. She is currently secretary of JACASPA, the college's support staff union.
She is a member of the Association professionnelle des techniciennes et techniciens du Québec and the Quebec Library Association.