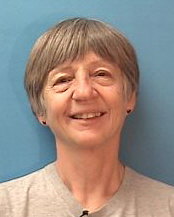 Rutherford, Sharon
Sharon returned to school as a mature student and graduated from John Abbott in 1987. From McGill University she received her B. Sc. (Microbiology, 1991) and M. Sc. (Parasitology, 1994). She subsequently did extensive research investigating means of controlling growth of C. botulinum, the causative agent of botulism. She taught at JAC from 1995 - 1997, then at Marianopolis College from 1997-2001 and returned to her Alma Mater in the fall of 2001.
Sharon was Honours Science Program Co-ordinator for four years, and in this capacity, as well as in other informal community building activities, coordinated enthusiastic members of the JAC family to raise thousands of dollars to help people in Haiti, Pakistan and Mexico. Funds generated from her Pennies for Poultry initiative paid for the construction and stocking of three chicken coops in Kenya and contributed to the purchase of a cow to supplement the income of a children's home.
One of her favourite activities as a teacher has been coordinating The Lab Project, which she initiated in 1997. This popular activity, which operates thanks to the participation of many research laboratories, exposes students for a few days to the life of the research scientist and helps establish the vital connection between theory and practice. More than 800 students have been able to benefit from this experience. In 2008, Sharon developed the Macdonald Mentoring Project, which exposes students, on a weekly basis, to research performed at McGill's Macdonald Campus.
Her leisure activities include making soap and volunteering for activities that promote Fair Trade.