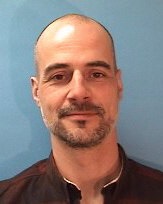 Duguay, Sylvain RIP
Born in a tiny village in the Charlevoix region, Sylvain Duguay starts his academic journey by enrolling in the Canadian Navy and exploring the world of pure and applied sciences at the Royal Military College of Canada, in Saint-Jean-sur-Richelieu and Kingston. He quickly discovers a passion for literature and the humanities and graduates from RMC with a BA in Études françaises. He then moves to Montreal and he completes a MA in Langue et littérature françaises at McGill. His PhD in Humanities, from Concordia, presents him with the opportunity to study questions of sexuality, gender, and identity as they are represented in theatre and film. A postdoctoral grant sees him join UQAM's École supérieure de théâtre for a 2-year research project on multimedia theatre.
At John Abbott College since 2010, Sylvain encourages students to learn about themselves and the societies in which they live. He uses philosophy, cultural theory, science fiction, cinema, short stories, and a variety of other approaches to help students develop critical tools, and become more knowledgeable and more engaged citizens.
He is tall, and he likes to swim. He is also convinced that he has the best job in the world.
Sylvain was the victim of a tragic automobile accident in the Winter semester of 2017.  He is sorely missed by his students and colleagues.