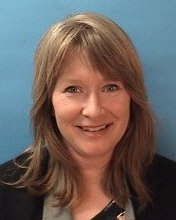 Gare, Belinda
Belinda grew up in Northern Ontario where she developed a love of nature and animals.
Many of her gouache paintings can be described as close up "natural landscapes".
Enjoys playing softball in summer and curling in the winter and tries not to take either too seriously.
Currently resides in Rigaud, Quebec and enjoys walking her dog on the mountain.
About teaching in Graphic & Web Design
"It is so fulling to be a part of the diverse and talented community of John Abbott College.
Having come full circle as an art director and a visual artist,
I now get the opportunity to share what I have learned from my own experience.
Designers solve problems in order to communicate an idea or a message.
Graphic and web designers develop their craft by understanding the principles of design,
developing strong technical skills, listening, interpreting and appreciating a client's perspective or
situation. They embrace feedback and strive for the best solution.
Part of my role as an educator is to facilitate the process of solving problems.
When this happens in a classroom, it is a real privilege to be a part of the process.
Rough drawings develop into final concepts. Ideas come to life on-line.
It is not by magic that this happens, it is by participating and fully engaging in problem solving
that solutions emerge from the white space or dark screen.
By the third year, students appreciate the value in what they have learned.
When they return from their stage, they comprehend that others value what they know.
The best part of teaching is working everyday with amazing, young people."
Ask Belinda about her roadtrip to Alaska!!