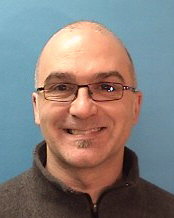 Girouard, Eric
Eric Girouard joined the faculty of John Abbott College's Publication Design and Hypermedia Technology department in 2001, after starting his teaching career at the International Academy of Design in Montreal in 1997.
Although Eric holds a Bachelor's degree in Fine Arts (specializing in painting & drawing) from Concordia University in Montreal, he traded in his paintbrushes for a mouse and keyboard when he first used Photoshop in 1991.
Since then, he has worked in professional photography, print and web design as well as user interface design and usability analysis. In addition to his responsibilities as departmental chair at John Abbott College, Eric is a Master mentor of photographic art at The Arcanum, runs his own blog and stock photography portal site.
Eric lives in Rigaud with his girlfriend and his two kids. When not hiding behind a computer screen for work, Eric loves hiding behind a camera for fun.