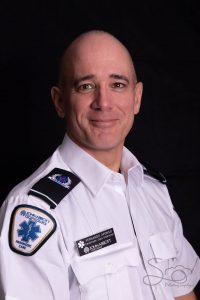 Afonso, Fernando
Fernando, like many others, became very interested in emergency medicine while watching episodes of the NBC show "EMERGENCY" as a child!
A faculty member of the Paramedic Care program at JAC since 2010, he has been a Registered Nurse (RN) since 1993, specializing in emergency and critical care. His critical care experience includes 18 years in the Emergency Department (ED) at the Jewish General Hospital in Montreal and currently he continues to practice in the ED at St‑Mary's Hospital. This experience has allowed him to expand his clinical practice and knowledge base, and gives him the chance to work on the receiving end of paramedic care.
His pre-hospital experience includes having worked as a volunteer first responder from 1994 to 2000 for the City of Côte-Saint-Luc Emergency Medical Service.
After graduating from the Primary Care Paramedic Program of Ahuntsic College in Montreal, he worked from 2000 until 2006 as a paramedic for the Montreal and Laval EMS agency, la Corporation d'Urgences-santé.
Currently, Fernando continues to work part time both as an Emergency Department Nurse (RN) at St-Mary's Hospital and as an EMS officer with the Town of Pincourt Fire Safety and EMS Department.
His teaching background includes being a BCLS & first aid instructor for the Heart and Stroke Foundation of Canada, as well as an Advanced Cardiac Life Support (ACLS) instructor for this same entity. Fernando is a member of the McGill University Medical Faculty providing ACLS training to medical students, residents and physicians, nurses & other professionals throughout the year.
Outside of work, he has the BEST role of all. That of being a DAD to his four children who enrich his life each and every day!