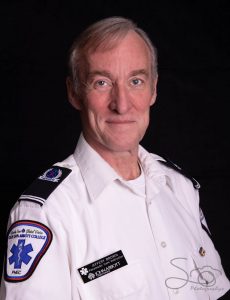 Brown, Jeffery
Jeffery Brown started his career on an ambulance in 1976.  In 1977 he graduated at the top of his class in the Paramedic Program at Dawson College and the Royal Victoria Hospital, under the direction of Dr. Pieter Cohen.
Since that time, he has worked for private employers, Bombardier, and Urgences-santé, working as a field supervisor for 21 years.   He is part of a volunteer search and rescue unit in the West Island, and provides medical coverage for events as well as being called out to searches for the Sûreté du Québec.
Jeffery is the coordinator of the Paramedic Care program at John Abbott.