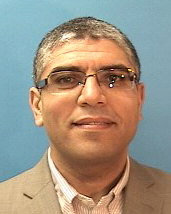 Khalid, Nabil Mohamed
Nabil M. Khalid has been a Professor and Department Chair in the Biopharmaceutical Production Technology department at John Abbott College since 2012. Nabil holds a PhD in Pharmacy specialized in Pharmaceutical Technology from the University of Paris XI College of Pharmacy as well as an MBA from ESG University of Quebec in Montreal. After completing his PhD, he received the 1er Prix de these from the University of Paris XI and the National Academy of Pharmacy.
Since 1996, he was active in both academic and industrial sectors. He works in clinical affairs and pharmacovigilance at SmithKline Beecham in Paris. Then relocated in Montreal, he joined several Pharmaceutical companies and organizations in Canada like Labopharm as Scientist, Genome Quebec as Director Business Development for RNomic platform and BioEnvelope division Paladin labs as Director of Scientific Affairs. He was lecturing sterile products at the University of Montreal Faculty of Pharmacy 2005-2009 and he is regularly invited lecturer at the Polytechnic School of Montreal, Biomedical Engineering Institute. He was also involved in teaching activities at Dawson College in the Biotechnology and the Nano-Biotechnology AEC as well as the ContEd Chemistry courses. He was also Assistant Professor at Ajman University of Science and Technology (UAE) College of Pharmacy and Health Sciences 2010-2011 where he was teaching Pharmaceutical Technology for both undergraduate and graduate students.
Since 1994, he is involved in many pharmaceutical research and development projects mainly in the field of solid and liquid dosage forms formulation and controlled drug delivery. He is the author and co-author of many publications and patent applications.
At John Abbott College, Nabil is involved in teaching liquid manufacturing, oral solid dosage form, and bioprocessing.