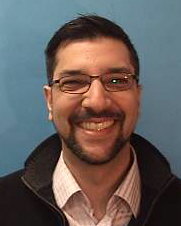 Hughes, Sean
Sean Hughes has been a teacher in the department of chemistry at John Abbott College since 2006. In 1999, Sean earned his B.Sc. in Biology from Concordia University and was a graduate of their Science College program. He stayed at Concordia University to pursue his Ph.D. in Chemistry under the co-supervision of Drs. John A. Capobianco and Gilles H. Peslherbe. His work entailed understanding the cluster-to-bulk transition of micro-solvated ions.
Prior to joining John Abbott College, Sean taught classes at Dawson College as a member of their continuing education department and assisted Dr. Bhuvan Pant for a number of years with an e-course for non-science students at Concordia University. At John Abbott College, he became Pathways Coordinator in 2010 and has been an active member of several program committees (Pathways, Crossroads, Science and Nursing) as well as a long-standing member of the Student Success Committee. He became a Science program coordinator in 2021.
In addition to his work at John Abbott College, he has worked closely with the Master Teacher (PERFORMA) Program (MTP), acting both as head technician and as a research supervisor. He is currently collaborating on a PAREA-funded project, spearheaded by the SALTISE group, to explore inquiry-based learning in Science program laboratories.
Sean has also been a member of the CPE du Campus board of directors since 2016 and has acted as its President since 2017. He served a term on the board of the Learning Specialists Association of Canada (LSAC) while chairing the organizing committee of the 2017 LSAC National Conference. For more details, please visit https://www.linkedin.com/in/sean-rashad-hughes-3b062a186/