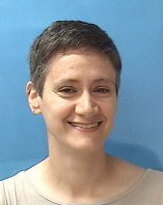 Harrar, Vanessa
B.A. Psychology and Math (York University)
M.A. Psychology: Brain, Behaviour, and Cog Sci (York University)
Ph.D. Psychology: Brain, Behaviour, and Cog Sci (York University)
Vanessa grew up in Montreal and moved to Toronto for university. She received her Bachelor of Psychology from York University, then joined Laurence Harris's lab and under his supervision, earned both her Master of Arts and Doctorate degrees in Cognitive Psychology, specializing in Multisensory Perception, also at York. Thereafter, Vanessa was awarded a 3-year Post-Doctoral Fellowship from Oxford University, where she studied the integration of the senses across time and space in Charles Spence's lab. She then moved back to Montreal and continued her research at the University of Montreal, looking at multisensory integration in older adults and congenitally blind individuals. She tested and developed technologies to help blind people "see" using touch and hearing.
Over the years, Vanessa has taught several courses in psychology, statistical analyses, and research methodology, both at the collegiate and university level. Her favourite course to teach is Quantitative Methods because math is concrete, and playing with numbers is fun. Vanessa also loves the opportunity to talk about the outstanding research coming out of psychology studies today!
Vanessa is in a committed relationship and a proud mama of two bright and beautiful boys. They enjoy hiking in the Laurentians with their 70lb dog. Vanessa loves making sourdough bread, plays hockey recreationally, and is learning to make useful things out of clay.